Matt Robinson coordinates the Fresh Start project in Coventry – partnering with churches to offer a warm welcome and sense of companionship to recently-arrived refugees and asylum seekers.
WEC is delighted to endorse Fresh Start as a brilliant example of a project partnering with local churches. Several of our workers also love joining in with their football project on Saturdays!
'I started following Jesus around five years ago, when I was a student at Durham University. After graduating, I worked as an intern at King's Church in Durham, and it was during this time that I felt God call me to this ministry. (As well as meeting my wife!)

During a prayer meeting, I felt the Spirit prompting me to read Jonah, despite never having read this book before. As I read about the repentance of the city of Nineveh, God just broke my heart. The former ISIS stronghold of Mosul is built upon the ruins of Nineveh and I found myself in floods of tears – for Iraqis, Syrians and all who have been forced to flee their homes.

'Soon after, I moved to Coventry and, while doing the cathedral's internship programme, I began helping with English classes at the Refugee and Migrant Centre. Many of the people I was supporting kept saying the same thing: that they were struggling to build friendships with people who were not from their country and therefore felt like "outsiders" here.

'This was the prompt to launch Fresh Start. We're aiming to create opportunities to build relationships, and to develop the kind of culture of welcome that Jesus himself calls us to in Matthew 25.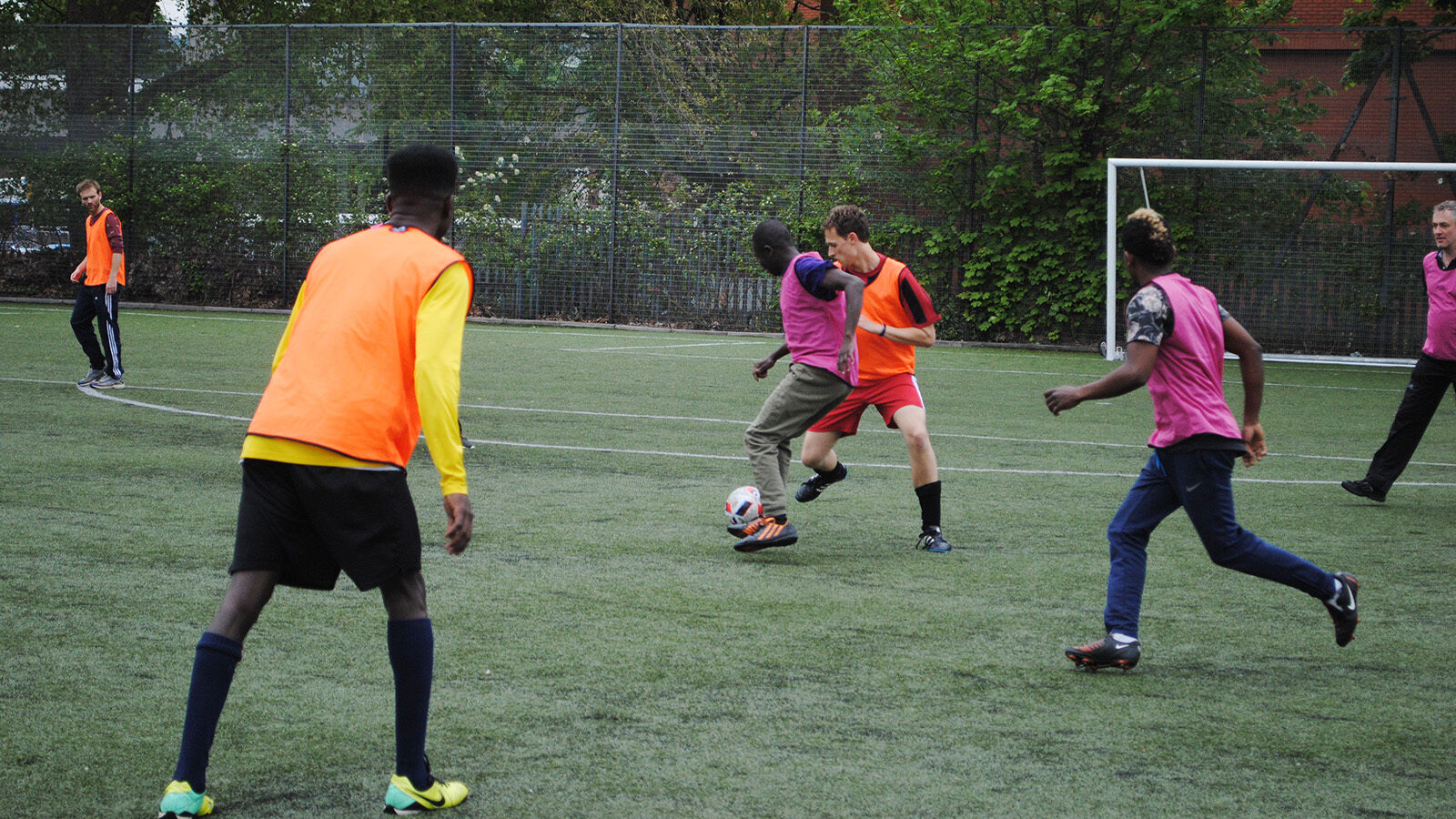 We currently run three main projects: 1. Fresh Start Football on a Saturday morning, using the universal language of football to bring people together; 2. English Conversation Cafes, offering people the chance to meet together, twice a week, and practice speaking English; and 3. Fresh Start Companions, pairing up volunteers with recently-arrived families, to help children with their schoolwork or simply offer companionship for the parents.
'These projects have been very successful, with around 40 young men currently playing football every Saturday, and around 15 learners coming to our Conversation Cafes.

It's an incredible privilege to lead this project, though certainly not what I expected to be doing, three years out of uni!
In total, we work with around 90 individuals from 17 different countries. Most of them are from Sudan, Eritrea or Iran. It's an incredible privilege to lead this project, though certainly not what I expected to be doing, three years out of uni! And it's so encouraging to know we're making a difference.

Osman, a Sudanese asylum seeker, told me: "You have really helped me to improve my conversational skills and to feel at ease here and make friends. Thank you Matthew!"'
Please pray for Fresh Start: for more Christians to get involved and for God to use the project to extend his love and welcome to people who feel like 'outsiders'.
If you're local to Coventry and want to reach out to refugees in the name of Jesus, contact Matt to find out more about Fresh Start. If you're based elsewhere in the UK, why not partner with WEC to reach immigrant communities near you?
Read the next Story Next item arrow